AIOLOS – Artificial Intelligence Tools for Outbreak Detection and Response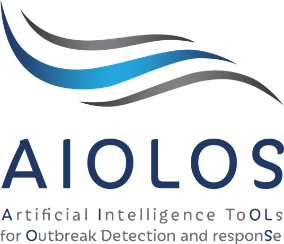 The goal of the AIOLOS project (Artificial Intelligence Tools for Outbreak Detection and Response) is to develop a digital platform to allow for early detection of new respiratory pathogens epidemics, monitor their spread, and inform decision-makers on appropriate countermeasures. AIOLOS will provide insights for private and public decision-making in a web-based dashboard, which leverages real-time data from multiple data sources, advanced artificial intelligence (AI), and predictive modeling.
The Covid-19 crisis has confirmed the need for a resilient multi-stakeholder surveillance and control system to manage current and future epidemics or pandemics. The uncertainty regarding the impact of the Covid-19 pandemic on the circulation patterns of other respiratory pathogens (e.g., influenza or others) makes such surveillance even more important.
In this context, AIOLOS aims to support decision-making by integrating and combining real-time data from various sources and using advanced AI analytical methods. The goal is to detect early signs of an epidemic related to respiratory pathogens, monitor their spread, derive appropriate countermeasures, and assess their impact.
Sanofi in France and the Fraunhofer Institutes SCAI and ITMP in Germany lead the consortium, which includes four other French and German partners (CompuGroup Medical, Quinten Health, Impact Healthcare, and umlaut, part of Accenture) and other public and private organizations as associated partners.
The French State and the German Federal Ministry for Economic Affairs and Climate Action support the project in the context of the Franco-German call on Artificial Intelligence technologies for risk prevention, crisis management, and resilience.
The consortium aims to deliver a prototype of the platform within two years, focusing on France and Germany. The platform will be extended across Europe and beyond, contributing to the set-up of multipartite resilient surveillance systems in the European Union and supporting the EU Health Emergency Response Authority (HERA) mission.
The consortium will also seek synergies with the WHO Hub for Pandemic and Epidemic Intelligence in Berlin and other vital stakeholders in this field at the global level.
Project duration: 03/2022 – 02/2024